We have an excessive amount of zucchini in our kitchen right now.  Whether you grow zucchini, have a friend with a garden, or visit your local farmers market often, it's that time of the year where zucchini (and other squash varietals) is in abundance!  Below please find two different zucchini recipes that I have been making recently.  One is a family recipe book and the other is from the blog, Smitten Kitchen.  Enjoy!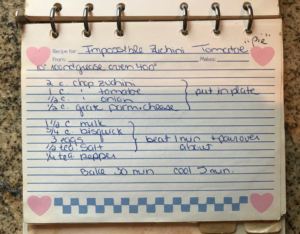 Impossible Zucchini Tomato "Pie"
Ingredients:
2 cups chopped zucchini
1 cup chopped tomato
½ cup chopped onion
½ cup grated parmesan cheese
1 ½ cup milk
¾ cup pancake mix
3 eggs
½ teaspoon salt
¼ teaspoon pepper
Directions:
Preheat oven to 400 degrees.
Grease 10" pie plate.
Add zucchini, tomato, onion, and cheese to pie plate.
In a large bowl add milk, pancake mix, eggs, salt, and pepper.
Whisk for 1 minute.
Pour egg mixture over vegetables and cheese in pie plate.
Bake for 30 minutes or until golden brown.
Cool for 5 minutes and serve.
Ultimate Zucchini Bread*
Ingredients:
2 cups grated zucchini
2 eggs
2/3 cup oil or melted butter
½ cup dark brown sugar
½ cup sugar
1 teaspoon vanilla
1 teaspoon salt
1 1/2 teaspoons cinnamon
1/8 teaspoon nutmeg
2/3 teaspoon baking soda
½ teaspoon baking powder
2 cups all-purpose flour
2 tablespoons raw sugar
Directions:
Preheat oven to 350 degrees.
Grease a 9 x 5 loaf pan.
In a large bowl mix zucchini, oil, eggs, sugars, vanilla and salt.
Mix with a fork until combined.
Add cinnamon, nutmeg, baking soda, baking soda.
Mix with a fork until combined.
Add flour.
Mix with a fork until combined.
Pour batter into the loaf pan.
Sprinkle sugar on top.
Bake for 55-60 minutes.
Cool completely overnight, before serving.
*Original recipe can be found on the Smitten Kitchen website, here.