Over the last few days here in Maine, the weather has changed and it's starting to feel like fall. This mac-and-cheese recipe certainly pairs well with the colder weather! The dish is from EatingWell.com, a great resource for healthy recipes. This baked mac-and-cheese uses sweet potato as the base of the cheese sauce, adding richness and fiber to the meal. I hope you enjoy this filling comfort food, with a a healthy twist!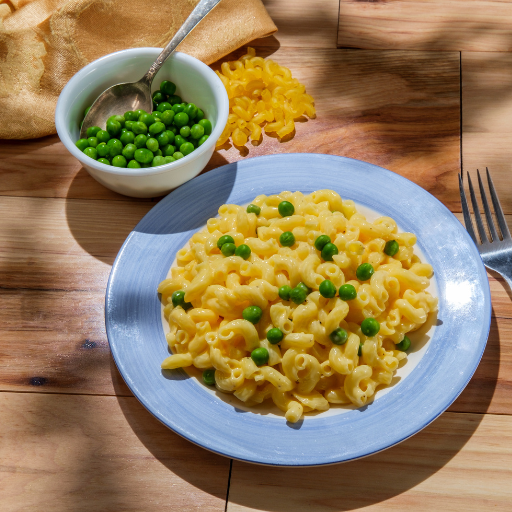 Ingredients:
8 ounces elbow-shaped pasta (whole wheat or gluten-free)
1 medium sweet potato
2 cups nonfat milk
2 tablespoons all-purpose flour (I prefer almond flour)
1 small clove garlic, minced
1 ¼ cups shredded sharp Cheddar cheese
1 tablespoon mustard
¼ teaspoon salt
¼ teaspoon pepper
½ cup peas (frozen or canned)
3 tablespoons breadcrumbs
1 teaspoon olive oil
Directions
Position a rack in the upper third of your oven and preheat the broiler.
Coat a 2-quart broiler-safe baking dish with cooking spray.
Cook pasta in a large pot of boiling water until just tender, according to the package directions. Drain and set aside.
Prick sweet potato with a fork in several places. Microwave on high until tender all the way to the center, 7 to 10 minutes.
Whisk milk, flour, and garlic in a large saucepan. Heat over medium heat, whisking frequently, until steaming and hot, but not boiling. Remove from heat.
As soon as the sweet potato is cool enough to handle, cut it open and scoop the flesh into the steaming milk. Puree
with an immersion blender until smooth. You can also use a blender to puree the mixture and return it back to the pan.
Add cheese, mustard, salt, and pepper and stir until the cheese melts.
Add the pasta and peas to the sauce and stir to coat.
Transfer to the prepared baking dish.
Combine breadcrumbs and oil and sprinkle on the pasta. Broil on the upper rack until the top is lightly browned and crispy, 1 to 2 minutes.
The original recipe is available here.