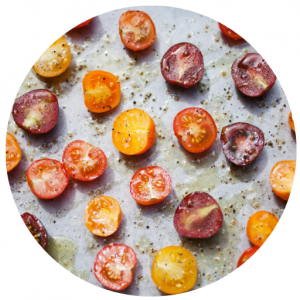 Anyone who knows me has heard about "my good friend Deb."  I get all my best recipes from her and back when I hosted dinner parties  (remember those days!), and someone would ask about how I made a meal, I would always say the recipe was from "my good friend Deb." 
Deb, in fact, is a famous blogger and cookbook author.  You can check out her blog here – https://smittenkitchen.com/
I do not know Deb.  But I feel like I should.  Maybe one day she will move to Maine and we will become fast friends.  Or maybe life will take me to NYC and we will meet there?
Until then, I share with you one of my favorite recipes from "my good friend Deb."  With peak tomato season happening right now, it is the time to make these roasted tomatoes.  Serve with cheese, on top of salad, over pasta, spread on a sandwich, you can't go wrong. 
https://smittenkitchen.com/2008/08/slow-roasted-tomatoes/
Ingredients 
2 quarts small tomatoes (cherry, grape or whatever you can find)
4 cloves unpeeled garlic
Olive oil
Salt and pepper
Fresh thyme or rosemary (optional)
Directions

Preheat oven to 225
Line a baking sheet with parchment paper
Cut tomatoes in half and place on baking sheet along with garlic
Drizzle with olive oil and sprinkle lightly with salt, pepper and any herbs you are using
Bake for 3 hours
Let cool and enjoy!