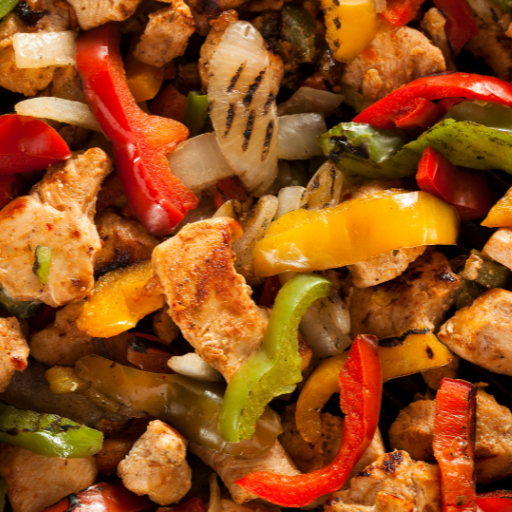 While many are focused on Thanksgiving meal planning for next week, I thought it would be fun to share a favorite Mexican recipe! Not only does this feed the whole family, but it's easy to make, and clean-up is a breeze because it's all cooked in one pan. I found this dish on the Low Carb Nomad website, a great resource for low-carb and keto recipes. You can make traditional fajitas with flour or corn tortillas, use lettuce as a wrap, or make a fajita bowl. Use the toppings of your choice including lettuce, tomato, beans, corn, cheese, jalapeno, lime, or avocado… the options are endless!
Ingredients
3 peppers, thinly sliced
1 onion, thinly sliced
1 lb. chicken breast, thinly sliced
2 tablespoons olive oil
1 tablespoon chili powder
1 tablespoon cumin
1 teaspoon dried oregano
1 teaspoon garlic powder
1 teaspoon onion powder
1 teaspoon paprika
salt and pepper to taste
Instructions
Preheat the oven to 400 degrees.
Place the vegetables and chicken onto the sheet pan.
Drizzle with olive oil and toss to coat.
Sprinkle the spices on top of the chicken and toss to coat.
Cook for 10 minutes, stir, and cook for an additional 10 minutes.
Check to ensure the chicken is fully cooked (to 160 degrees.)
The original recipe can be found here.