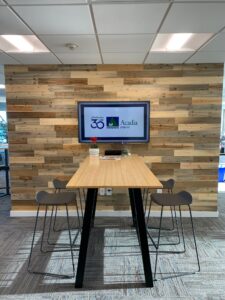 During the last two months, our Acadia Benefits team has settled into new office space at 50 Portland Pier.  While we still have some finishing touches to complete, much of the work has been done and we are now fully taking advantage of all that the 3rd floor has to offer.  We still get excited about the newest technology in our conference room, enjoy the open and uncluttered floorplan, and have enjoyed some pretty spectacular sunrises and sunsets.  I can confidently speak for the team and say we all feel very fortunate to be together, in our beautiful new workplace.
Like with anything new, there have some hiccups along the way.  Which I thank the team for handling with creative work arounds, and of course, a little humor!  Everyone has an individual office, with glass walls and door.  While this has allowed us to work safely and independently, it has also presented some unforeseen challenges.  We hadn't realized how bright the south facing offices would be.  After a month of some team members wearing sunglasses at their desks, we ended up installing room darkening shades.  The glass offices also presented a problem with being able to see people working but not knowing if they were on the phone or in a virtual meeting.  For the time being we provided everyone a set of large snowflake stickers to put up on their door to indicate "do not disturb."  This seems to be working well so far!
I hope you will enjoy the photo gallery below with some pictures of what has been happening at 50 Portland Pier.  (Many of us have beefed up our photography skills so we could better capture the views of the waterfront!)  We will continue to share photos over the coming months and until then, wishing you and your families a safe and happy holiday season.