For this month's healthy recipe, I wanted to share a delicious salmon dish I have been recently cooking.  Salmon has many health benefits and click here for an informative article as to why you should incorporate more into your diet.
Please enjoy – this is a quick and easy weeknight dinner staple that feeds 2!
Ingredients: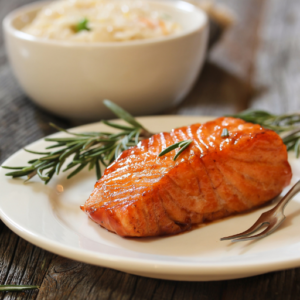 1/2 – 3/4 lb. salmon filet, skinned
2 T flour
salt and pepper
1 T butter
1/2 cup orange juice, freshly squeezed
1/4 cup Chardonnay
1/2 t fresh rosemary, chopped
1 T shallots, minced
1 T maple syrup
Instructions:
In a shallow bowl, combine flour, salt, and pepper.  Dredge salmon in the flour mixture and shake off excess.
In a skillet, melt butter over medium heat.
Add salmon and saute for 1 to 2 minutes on each side.
Remove salmon from the pan.
Add orange juice, Chardonnay, rosemary, and shallots to the pan.  Cook until the liquid boils and is reduced by half.  About 3 minutes.
Stir in maple syrup and remove from heat.
Cut salmon in half and top with sauce.
This recipe was found in the Greetings from Maine: Recipes from the Maine Kitchen by Cancer Community Center, cookbook.