Have you grilled your salad greens?  If not, you really should!  You will be amazed by how much more flavor and texture your salad will have by throwing it on the grill for a few minutes.  I have found romaine lettuce to be the easiest type of lettuce to grill because it holds its shape so well.  It also gets slightly carmelized and retains its crunch.
I enjoy grilled salad on its own and have served as a side dish with grilled chicken, salmon, or steak.  It's easy to customize with your favorite dressing and salad toppings!
Ingredients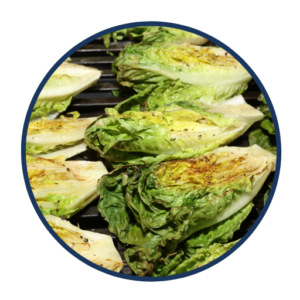 1 head of romaine lettuce
Cooking spray
Salad dressing of your choice
Crumbled cheese of your choice (I use blue cheese)
Toppings of your choice (croutons, chopped veggies, bacon are all favorites)
Instructions
Heat your grill to medium.
While your grill is warming up, cut the head of romaine lettuce length-wise.
Spray both sides of the lettuce with cooking spray.
Grill, flat-side of the lettuce down, for 2-3 minutes.
Flip over and grill for another 2-3 minutes.
The romaine should be lightly charred.
Remove from the grill and let cool.
If you prefer, chop romaine into bite-size pieces.
Otherwise, I like to serve the whole piece of romaine (and your family and friends will think they are eating at a restaurant!)
Top with your favorite dressing, cheese, and salad toppings.
Enjoy!
Catherine Desrochers
207.615.0559
cdesrochers@acadiabenefits.com