This is one of my favorite summer side dishes.  It may technically be fall but it feels like summer… so fire up your grill and enjoy!
Ingredients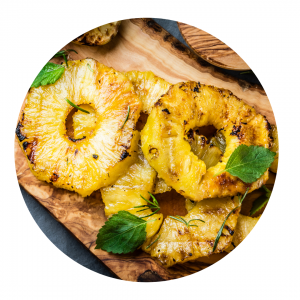 1 fresh pineapple, peeled, cored and cut into 1" rings*
1/24 teaspoon honey
3 tablespoons melted butter
1 dash hot pepper sauce
1 dash Stubb's liquid smoke
Salt to taste
Directions
Add all ingredients to a large, resealable bag and shake to coat evenly.
Marinate 30 minutes or overnight in the refrigerator.
Heat grill to high and brush grate with oil
Place pineapple on grill and cook for 2-3 minutes on each side.
* You can also cut the pineapple into wedges, put on skewers and grill!