'Tis the season for summer BBQs, potlucks, and get-togethers with family and friends.  Need to bring a side dish with not a lot of notice?  Keep these ingredients in your pantry so you can put together this quick salad and this soon will become your summer staple.  You can also add chopped fresh vegetables, cheese, or salami to this salad and make it a meal!
Ingredients: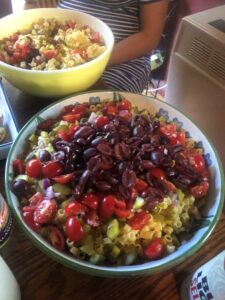 1 lb. ditalini pasta
1 pint of grape tomatoes, cut in half
1/2 jar of pickles, cut into a small dice
1 jar of Greek olives, sliced
1/2-1 cup of red onion, thinly sliced
3/4 cup light mayonnaise
1/2 cup apple cider vinegar
Directions:
Cook pasta according to directions on the package.  Let cool.
In a small bowl make the dressing by whisking together the mayonnaise and vinegar.
In a large bowl add pasta, tomatoes, pickles, olives, and onion.
Add dressing to a large bowl and stir to combine.
Adjust seasoning with salt and pepper if needed.
Enjoy!