This recipe was passed along from my dad and has always been a family favorite.  It's quick and easy for a weeknight meal and any white fish works well.  My personal favorite is haddock and the dill provides a little "tang."  I hope you will enjoy this recipe as much as I have over the years.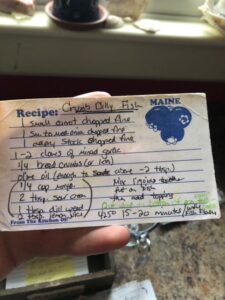 Ingredients
2 T olive oil
1-1/2 lbs. white fish
1 small carrot, finely chopped
1 small to medium onion, finely chopped
1 celery stalk, finely chopped
1-2 cloves garlic, minced
1/4 cup breadcrumbs
1/4 cup plain yogurt
2 T low-fat sour cream
1 T fresh dill, finely chopped
2 T fresh lemon juice
Instructions
Heat oven to 425.
Mix yogurt, sour cream, dill, and lemon juice in a medium-sized bowl.
Pat fish dry and add fish to bowl and coat with yogurt mixture.
Place fish in a shallow baking dish.
Heat 2 T olive oil in a saute pan over medium heat.
Saute chopped carrot, onion, celery, and garlic and cook until light brown.
Add breadcrumbs and saute until golden brown.
Top fish with toasted breadcrumbs and cook for 15-20 minutes.