An easy, healthy, weeknight meal is a priority for my family. We started making this soup recently, and it's been a hit!  With two small children, we cool the soup, cut into small pieces, and serve it as is to them. Then my wife and I add our favorite toppings, and we all enjoy dinner together!
Ingredients: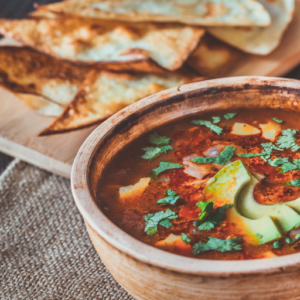 2 chicken breasts
1 jar salsa verde
3 cups chicken broth
1 cup sweet potato (cut into small dice or sliced thinly)
1/2 lime, squeezed
1/2 cup cilantro, chopped
tortillas
olive oil
salt and pepper
toppings of your choice (mine include cilantro, avocado, and pepper flakes)
Directions:
Put chicken breasts and the jar of salsa in a large stockpot or dutch oven.
Cover the pot and cook on medium heat for 15 minutes.
Preheat the oven to 400 degrees (for the tortillas.)
Remove the chicken and let cool.
Add the broth, sweet potato, lime juice, and cilantro, to the pot.
Shred the chicken and add it back into the soup.
Cook over low heat for 10-15 minutes, until the sweet potato is tender.
While the soup is cooking, prepare the baked tortillas.
Slice tortillas into quarters and place on a baking sheet.
Spray or brush the tortillas with olive oil, and season with salt.
Cook tortillas for 5-10 minutes, until golden brown.
Once the soup is ready, season with salt and pepper to taste.
Add soup to individual bowls and add your favorite toppings.
Serve with baked tortillas.
The full recipe, along with other healthy ideas, can be found here.