It's that time of the year when soup for dinner is a weekly staple in our house.  This recipe is easy to prepare after work and you can clean out your fridge and panty with items to top the soup with!
Ingredients – Serves 6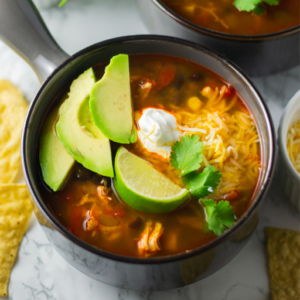 2 tablespoons olive oil
6 scallions,  thinly slice the white and light green parts
1 jalapeno pepper, finely diced (optional)
2 garlic cloves, finely diced
6 cups chicken stock
3 boneless, skinless, chicken breasts
4 roma tomatoes, cut into large dice
2 T cumin
the juice from 1 lime
salt and pepper to taste
Optional toppings include:
diced avocado
grilled corn
diced tomato
thinly sliced onion or scallions
tortilla chips
shredded cheese
cotija cheese
lime wedges
roughly chopped cilantro
sour cream
Directions
In a large Dutch oven, heat olive oil over medium heat.
Add scallions and sauté until translucent.
Add jalapeno and sauté 1-2 minutes.
Add garlic and sauté 30 seconds.
Add chicken stock and bring to a boil.
Add chicken and reduce heat to a low simmer.  Stir soup occasionally and remove chicken once cooked through, 10-12 minutes.
Prepare your optional toppings while chicken is cooking.
Remove chicken, place in a bowl and let cool.
Add tomatoes, cumin and lime juice to the soup.  Season with salt and pepper.
Once chicken is safe to handle, shred with two forks.  Add chicken, and any juices from the bowl, back into the soup.
Cook soup for another 5-7 minutes.
Check again for seasoning and add salt and pepper to taste.
Ladle soup into bowls and add toppings.
Enjoy!