Minestra di Cavolofiore
This cauliflower soup recipe has quickly become a weeknight favorite around the office at Acadia Benefits.  It is simple to make and the perfect dinner for a cold night.  Serve with a salad and fresh bread and you have quick meal that is sure to impress your family and friends!
Ingredients: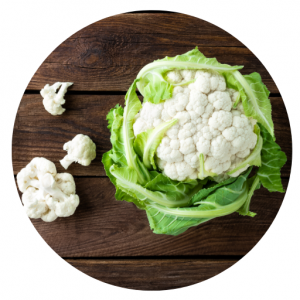 Olive oil
1 head of cauliflower, cut into bite size pieces
1 medium red onion, cut into medium dice
pinch of red pepper flakes
4 garlic cloves, minced finely or pressed through a garlic press
2 bay leaves
1 cup marinara sauce (any jarred pasta sauce will do)
4 cups chicken or vegetable stock
1 cup ditalini (any small pasta will do)
salt and pepper to taste
grated Parmesan and extra virgin olive oil to serve
Directions:

Heat 4 tablespoons of olive oil over medium heat in a heavy bottomed stockpot or dutch oven.
Add cauliflower and brown, stirring frequently for 10 or so minutes.
Add onion and cook until translucent.
Add garlic and cook for another minute, stirring frequently.
Add bay leaves, marinara sauce, stock and season heavily with salt and pepper.
Cook for 20 minutes or so until soup begins to thicken.  Test for seasoning and add more salt and pepper if needed.
While soup is cooking, cook pasta according to directions.
Remove bay leaves.
Serve soup over pasta with Parmesan and a drizzle of extra virgin olive oil.
Also great with any fresh herbs you have on hand and croutons.
Enjoy!