We are thrilled to share some exciting news with you.  For the last few months, we have been busy preparing to move our Acadia Benefits team into new office space.  This probably doesn't come as a surprise to anyone who has visited us on Commercial Street in the last year or two.  We definitely needed to find a little more space for the new team members that were brought on board!
While we knew we needed to make changes to our space to accommodate our growing team, the pandemic also made us look more closely at the safety of our office.  We made the decision in early March to have our team work remotely, and soon thereafter we started thinking about how to make our space safer for employees as they prepare to return to the office.  It seemed like the right time to make a change.
Our new space is at 50 Portland Pier, a quick walk from our current office.  For those who knew John, Vicki and Bob "back in the day" you may remember this is the same place where Acadia Benefits started… 30 years ago.  We look forward to sharing photos and construction updates in the coming weeks, including welcoming back the smiling faces (masked for now) of some of our team members!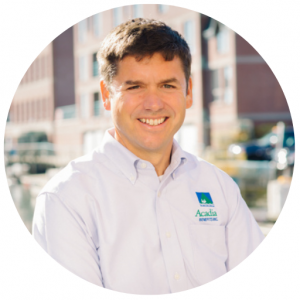 Scott McKee
207.822.4381
SMcKee@AcadiaBenefits.com