I have clear memories of visiting my father at work when I was younger. This was well before I started my career in the employee benefits industry. I remember being in awe of the big brick building and excited to go into the bustling city of Portland. Back then, it was (and still is) a fun place to go, with friendly faces, a bowl of candy and an elevator.
Many of the employees I saw when I was younger are still here today. I now have the pleasure of going to the same building as they do and feel fortunate to work down the hall from my father. While the thrill of riding in the elevator is now a little lost on me, I do appreciate the history here.
Since I started working at Acadia Benefits, each of my colleagues, in their own way, has helped me in an industry that is personally rooted in family tradition. By observing the strong work ethic and dedication of my coworkers, I am encouraged about the future of employee benefits and the impact my peers will have on the field, including:
Technology – Many organizations in the health care industry are taking advantage of the technology innovations that are improving every day. These new technologies are offering creative ways to look at health insurance differently. I welcome this idea and see technology really changing this industry, including in the field of care management. Using technology to identify early stage medical conditions improves the patient's wellbeing and the cost of their care. If used correctly, this technology can change the industry for the better. Whether it be virtual doctor visits, wellness incentive programs, care management alerts, or the ability to compare the cost of services and claims through facility transparency tools, it is exciting to think about how technology will help manage the care and cost of patients going forward.
Adaptability – When I first started at Acadia Benefits in 2014 the Affordable Care Act regulations were just being set in stone for individuals and employers. I found that as a company, through education and hard work, we took this challenge head on and turned it into a positive opportunity. To experience the challenges the ACA presented early in my career taught me that change oftentimes presents new and rewarding opportunities. I continue to be excited about the changes the health care industry is always presenting. Learning to adapt and thrive is what it is all about!
Helping Others – Insurance and benefits can be confusing and overwhelming to most people. Our customers and their employees spend a lot of money on employee benefits and it's my job is to make sure things run as smoothly as possible for them. Helping people navigate this complicated system has been very rewarding and I continue to learn from my colleagues and peers in the industry of the importance in building and sustaining long-term relationships. A dedicated and involved benefit broker is a fundamental building block in sustaining long-term relationships with employers, their employees and dependents over the years.
When I was a child, I always told people I wanted to be a firefighter or hockey player when I grew up. Of course, I didn't understand the specifics of what my father did and how he helped people every day. But as I grew older, I really started to see how rewarding it was to help local businesses solve problems and support their employees to better understand their benefits. Health care is extremely personal for people and I am happy to be part of a team that is passionate about taking care of our customers and their employees.  I see a bright future ahead in this field and am excited about everything that will be changing in coming years.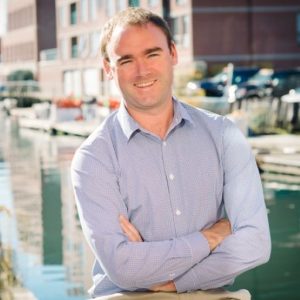 Kevin Kennedy has been with Acadia Benefits since 2014.  He works with our mid-sized/large customer accounts and develops new business.  Prior to working at Acadia Benefits, Kevin was a Captain and Business Manager of a tour boat in the Kennebunk River and is a graduate from Arizona State University.